Introduction
Scalable software is essential in the business world. It takes so long to wade through the promises made by every email marketing application out there to find one that delivers what you need to supercharge your campaign. You do not want to have to decide on a new option when your business has grown and evolved.
Sendinblue is a scalable email marketing tool. It combines usability with a robust feature set that you can add to as your business grows. Find out if it offers the features you need in our review below.
---
Is Sendinblue for You?
Sendinblue is one of the smartest and intuitive platform for growing businesses of any size.
With the right marketing & sales tools, Sendinblue is a simple, quick-to-use digital marketing solution, which makes it a wonderful choice for a naïve or a seasoned marketers or businesses that want to leap to the next level in the online marketing journey.
---
Sendinblue's Features
Sendinblue has an superb range of features, spanning all areas of sales & marketing.
Sendinblue lags a bit in the area of analytics and tracking. It only allows you to track simple marketing metrics, such as delivery rate, opens, and clicks. It lacks the ability to track any metrics tied to revenue, such as conversion rate, number of purchases, or revenue per click.
A Complete Suite for Sales & Marketing
Email Marketing
Get the word out and sell more with sleek email messages

SMS Marketing
Communicate more directly with customers for urgent messages

Marketing Automation
Save time and boost performance by automating your segmentation and marketing
messages

Transactional Email
Step up the design, engagement, and deliverability of your transactional messages

Segmentation
Get more engagement by sending your marketing messages to a more targeted audience

Chat
Be there for customers instantly when they have a question while browsing your site

CRM
Build stronger relationships by keeping track of all your contact details in one place

Landing Pages, Signup Forms, Facebook Ads & Retargeting, and much more
Customizable User Interface(UI)
Sendinblue has a fully customizable main navigation. You can add the most relevant features and apps for your business and set others to "off" if you're not using them.
This helps streamline the user interface, making sure you can quickly access features you typically use without slowing down the in-app experience. You can change the organization of the user interface at any time, giving you full flexibility in how you use the software.
Customize the user interface for the way you use the software. Source: Sendinblue.
For specific add-ons and a lot more sophisticated features, Sendinblue helps you get up and running and understand how the functionality works by providing one-sentence explanations.
For more complex features, Sendinblue sends in-app messages that give resources to help you get started, as well as offer support if you have any questions. This is a useful way of collating all the resources on the subject while not disturbing your workflow or taking you away from the task at hand.
Also Read: Aweber Review (2020): A Must Try
Email campaigns and Forms
Sendinblue offers the standard email creation options — customizable newsletter templates, rich text editor, and HTML builder — but what makes its email creation process stand out is its intuitive and user-friendly editor, which makes it instantly clear what steps you need to take.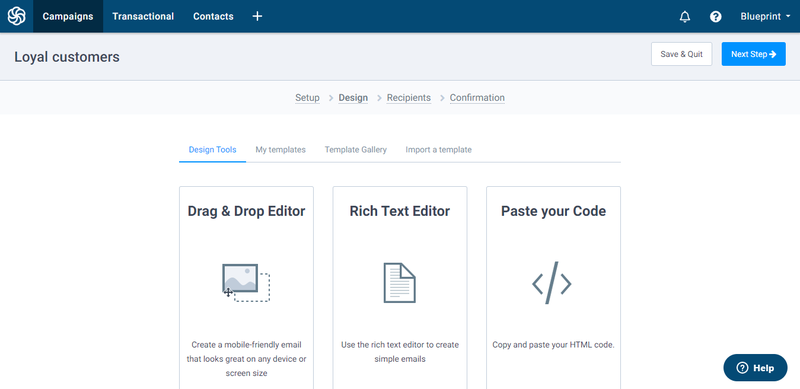 The user-friendly editor makes the next step obvious. Source: Sendinblue.
Sendinblue also has some useful design functionality, with the potential to change different elements depending on the type of content block selected. For instance, you can:
Change what color to make a link
Add captions to images
Change image alignment
Edit borders, background colors, and fonts
This means even when you use a template, you can adjust the design to exactly match your brand recommendations.
The software's templates are editable and adjustable to match your needs. Source: Sendinblue.
Sendinblue also enables you to add dynamic content where different content blocks are shown to different customers based on specific conditions, such as demographical data or past user behavior. This makes it possible for you to effectively build many emails for different target markets at the same time, while automating the process of customizing emails to make them a lot more relevant to each customer, both saving time and improving the customer experience.
Also Read: Trending Sales Funnels 2021: ClickFunnels Vs GrooveFunnels Review
You can schedule each email for a specific time, or let Sendinblue automatically send it at the optimal date and time for each individual recipient (as opposed to groups of recipients).
Even with the preview options available in Sendinblue, it can be challenging to be 100% sure your email will display correctly and that all content is working as it should be. That's why the ability to set up a test group of contacts to send each email to them prior to delivering it to prospects is so helpful.
Segmentation and Attribution
Sendinblue provides a lot of useful segmentation options to help you tailor content for your users and improve open and click rates. You can segment according to:
Demographic data such as gender, age, and location
Pageviews and clicks on products or categories
Email opens and clicks
Past purchase behavior
Segmenting your customers can improve your open rate. Source: Sendinblue.
Sendinblue's segmentation capabilities are driven by its powerful contact search, which enables you to find contacts by criteria such as email engagement history, demographic data, and inclusion in lists. You can apply more than one attribute when searching, which makes it quick to build very specific segments.
After you have made these segments, you can then apply rules based on the criteria of the segment to deliver a higher level of personalization in all your emails, and even show different email content to different segments from within one campaign. For instance, if you are sending an email to women, you can change the text to include female pronouns.
Automation
Sendinblue's automated workflows enable you to choose an entry point (i.e., the first action a user takes) and then choose which actions should be automatically taken right after this entry point based on customer behavior.
For instance, if a customer subscribes to your email list (the entry point), you can specify that Sendinblue automatically sends them a welcome email, and then, if the customer opens that email, two days later, it sends them an email with new product lines or best-sellers
Also Read: 5 Easy Steps to Quickly Grow on Instagram
Customize and A/B test your welcome message. Source: Sendinblue.
Sendinblue also lets you optimize these workflows by A/B testing different paths side by side to see which one gives you the best results — and to give you insight into which groups of customers respond best.
---
Statistics and Analytics
The sooner you know about an issue, the sooner you can fix it, and with Sendinblue, you can find out if there is a problem right away with its real-time tracking of sends, bounces, opens, and clicks. With Sendinblue, you can go deeper to find out the potential reasons for each of these problems, such as if there is a problem with how the email is displaying, or if poor deliverability is limited to a certain geographical location.
These results are displayed in easy-to-understand graphs and visuals, which deliver the needed insight to have an understanding of what you need to change and do more or less of. It's easily accessible data science.
However, the stats are limited, as Sendinblue only tracks sends, bounces, opens, and clicks according to location. Compare this to other email marketing software, which lets you track conversion rate, unsubscribes, spam complaints, list growth, and open rate by device and domain.
---
Chat, CRM, Landing Page, Sign Up Forms
Apart from other we just talked about, it also provides many other useful and advanced features like CRM to manage and communicate with your prospects better. One can build sales funnels using Landing page and Sign up forms features
Facebooks Ads & Retargeting
Launch Facebook ads from your account to retarget contacts or reach new audiences based on your contact lists. Very unique to Sendinblue
Sendinblue pricing
Sendinblue has a free plan, which limits you to sending up to 300 emails per day and does not include advanced analytics or A/B testing. This plan is ideal for small businesses that don't have big email lists.
Sendinblue also offers two main paid pricing plans, plus a custom plan for enterprises. The Lite plan starts at $25/month for up to 10,000 emails per month, while the Premium plan starts at $65/month for up to 20,000 emails per month.
The Premium plan also includes marketing automation features, such as landing page creation and Facebook ads.
You get a 10% discount on the paid plans if you pay for the entire year at once.
Sendinblue has a free plan and many paid pricing plans. Source: Sendinblue.
---
Our Take (Predictable & Data Driven)
Sendinblue excels in terms of usability, creating even sophisticated functions easy to learn and use. It has a rich set of useful features spanning email design, attribution, segmentation, automation, landing page creation, and contact management, all of which make creating email campaigns that delight prospects with a breeze.
Also Read: Liquid Web Review (2020): Is it Worth the price?
Its automated email marketing workflows enable you to send your prospects the right message on the right channel at the right time for that stage of the funnel or lifecycle.
Sendinblue's data-driven sending optimization capabilities maximize the chances of your subscribers opening your email, and as you send more emails and collect more data, its predictions improve and become more accurate.
If you are a business getting started with on-line marketing, sales and automation, Sendinblue is a must try for the price that they are offering $0 to Get Started and later upgrade to paid plan as you business demand increases